Restaurant
We are co-operating with the restaurant Coriander & Bar which is located right behind the hotel.
Coriander Restaurant & Bar
Lokomonkatu 11, 33900 TAMPERE.
Tel. 0505560682
Visiting hours: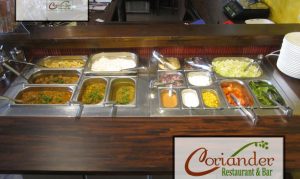 Monday-Friday: 10.30 – 21.00
Saturday: 17.00-21.00
Sunday: Closed
Lunch on weekdays: 10.30-14.00
Coriander & Bar restaurant offers exciting Indian dishes that you can also take out. Coriander is known for its quality of food and delicious recipes made with skill, focusing on attractive spices and their proven health effects. Perfect place for lovers of delicious and healthy food!
We will serve you to our best. To pamper our guests' taste buds, the Mango Hotel cooperates with Coriander Restaurant & Bar, located right behind the hotel. During the opening hours of the restaurant, visitors are welcome for delicious lunch, for a great dinner, or just grab a cup of coffee or other drinks.
Visitors are welcome for lunch from Monday to Friday at. 10.30 – 14.00. The lunch menu offers 2 main courses and 2 vegetarian dishes, all featuring a fresh salad buffet.